First Vaccine for Pregnant Individuals to Prevent RSV in Infants Approved by FDA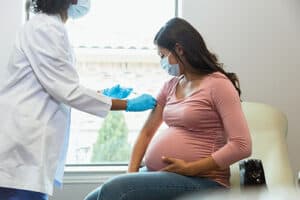 On August 21, 2023, the U.S. FDA approved Abrysvo, a Respiratory Syncytial Virus vaccine, for pregnant individuals. The vaccine helps build RSV antibodies in the mother's body, which is then transferred to the infant via the placenta.    
Abrysvo is the first of its kind approved for use in pregnant individuals to prevent lower respiratory tract disease (LRTD) and severe LRTD caused by respiratory syncytial virus (RSV) in infants from birth through 6 months of age. 
Recommended course for NPs: Hot Topics: The Surge: What Clinicians Need to know about RSV 
"RSV is a common cause of illness in children, and infants are among those at highest risk for severe disease, which can lead to hospitalization," said Peter Marks, M.D., Ph.D., director of the FDA's Center for Biologics Evaluation and Research. "This approval provides an option for healthcare providers and pregnant individuals to protect infants from this potentially life-threatening disease." 
Administered as a single dose injection into the muscle, Abrysvo is approved for use at 32 through 36 weeks gestational age of pregnancy.  
According to the FDA's press release, researchers evaluated the effectiveness of the vaccine in a clinical study. The study's results showed that among approximately 3,500 pregnant individuals who received Abrysvo, compared to approximately 3,500 pregnant individuals who received placebo, Abrysvo reduced the risk of severe LRTD by 81.8% within 90 days after birth, and 69.4% within 180 days after birth. 
The most commonly reported side effects by pregnant individuals who received the vaccine were: 
Pain at the injection site

 

Headache

 

Muscle pain

 

Nausea

 
Although not commonly reported, pre-eclampsia occurred in 1.8% of pregnant individuals who received Abrysvo compared to 1.4% of pregnant individuals who received placebo.