First COVID-19 At-Home Test Receives Marketing Authorization from FDA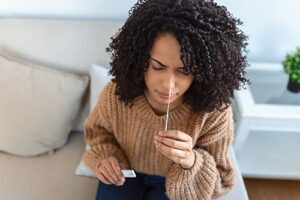 On June 6, the Cue COVID-19 Molecular Test received marketing authorization from the FDA. Intended to detect genetic material from SARS-CoV-2 virus present in nasal swabs from adults with signs and symptoms of upper respiratory infection, the test is a molecular nucleic acid amplification test.
"Today's authorization is the first at-home COVID-19 test granted marketing authorization outside of emergency use authorities, representing a new era of consumer access to diagnostic tests that can be performed entirely at home," said Jeff Shuren, M.D., J.D., director of the FDA's Center for Devices and Radiological Health. "The FDA continues to proactively work with test developers that desire to market their products beyond emergency use authorities. This is part of the FDA's broader effort to advance the development and availability of at-home tests for a variety of medical conditions to expand patient access to testing." 
The Cue COVID-19 Molecular Test is the first at-home over-the-counter COVID-19 to be given marketing authorization via traditional premarket review pathway.