Berberine: Nature's Ozempic?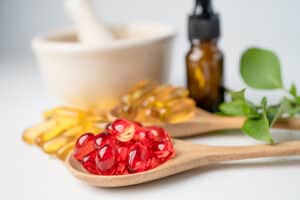 Ozempic (semaglutide) is a GLP-1 receptor agonist that has been helping millions of Type 2 diabetic patients not only control their blood sugar, but also help with an average weight loss of approximately 10-15 lbs during the first three months of use. Weight loss occurs as a result of delayed gastric emptying due to the release of GLP-1, so patients feel fuller for longer and eat less. Approximately 1/3 of all Ozempic users will lose at least 10% or more of their body weight in the first 3 months of use.   
Recommended courses: Diabetes Essentials 
Berberine is a dietary supplement that is being referred to as "nature's Ozempic," is found in a number of barberry plants and helps to decrease appetite and improve blood sugar levels via hepatic gluconeogenesis. As Ozempic and Wegovy supplies are limited or not covered by insurances, more people are looking to use Berberine at a significantly less cost.  
The FDA has not approved or reviewed this as a safe alternative to semaglutide nor do they monitor the number of fillers that go into dietary supplements so consumers may not get as much of the active ingredient as they may think. Studies are limited on Berberine to rate it as an effective alternative to semaglutide. Additionally, it is not without GI side effects and may negatively impact anti-clotting medications and sleep medications.