FDA

Authorizes Changes to

Simplify COVID-19 Vaccin

ation Schedule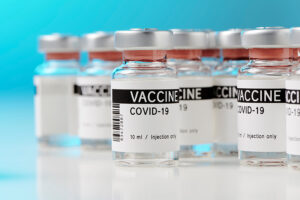 In order to simplify the vaccination schedule for most Americans, the U.S. Food and Drug Administration recently amended the emergency use authorizations (EUAs) of the Moderna and Pfizer-BioNTech COVID-19 bivalent mRNA vaccines. 
The FDA has authorized the current bivalent vaccines (original and omicron BA.4/BA.5 strains) to be used for all doses administered to individuals 6 months of age and older, including for an additional dose or doses for certain populations.  
The monovalent Moderna and Pfizer-BioNTech COVID-19 vaccines are no longer authorized for use in the United States. 
"At this stage of the pandemic, data support simplifying the use of the authorized mRNA bivalent COVID-19 vaccines," said Peter Marks, M.D., Ph.D., director of the FDA's Center for Biologics Evaluation and Research.  
"Evidence is now available that most of the U.S. population 5 years of age and older has antibodies to SARS-CoV-2, the virus that causes COVID-19, either from vaccination or infection that can serve as a foundation for the protection provided by the bivalent vaccines," he added.