FDA Approves Naloxone Nasal Spray for Nonprescription Use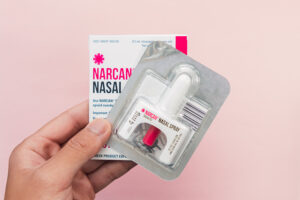 The U.S. Food and Drug Administration approved Narcan, 4 milligram (mg) naloxone hydrochloride nasal spray, for over-the-counter nonprescription use. This is the first naloxone product approved for use without a prescription. 
A medication that rapidly reverses the effects of opioid overdose, naloxone is the standard treatment for opioid overdose. In the U.S., more than 101,750 reported fatal overdoses occured in the 12-month period ending in October 2022. Data shows many of these deaths were driven by synthetic opioids like fentanyl. 
"The FDA remains committed to addressing the evolving complexities of the overdose crisis," said FDA Commissioner Robert M. Califf, M.D. "Today's approval of OTC naloxone nasal spray will help improve access to naloxone, increase the number of locations where it's available and help reduce opioid overdose deaths throughout the country."