What You Need to Know About the MATE Act
Written by Jannah Amiel, MS, BSN, RN and reviewed by Sally K. Miller, PhD, AGACNP-BC, AGPCNP-BC, FNP-BC, PMHNP-BC, FAANP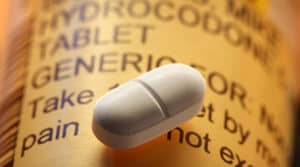 If you're a healthcare professional, you're all too familiar with our ever-evolving practice landscape. It goes without saying that staying informed about the latest practice changes, regulations, and policies is crucial for providers. One such recent practice update was the introduction of the MATE Act. This important new requirement went into effect on June 27, 2023 for all DEA-registered practitioners.   
Learn more about the requirement here.  
What is the MATE Act?  
The Medication Access and Training Expansion, or MATE Act, requires that any practitioner who's obtaining a new DEA license, or any DEA-registered practitioners renewing their license (except for those that are solely veterinarians) must complete a one-time 8-hour training on opioid or other substance use disorders and the appropriate treatment.  
This Act is the outcome of a legislative effort aimed at addressing the opioid epidemic that has gripped the U.S. It specifically focuses on expanding access to medication-assisted treatment (MAT) for opioid use disorder (OUD) patients.  
One of the key components of MAT is the use of medications like buprenorphine and Suboxone, combined with counseling and behavioral therapies, to provide a comprehensive approach to addiction treatment.  
What about the X-waiver?  
If you're a DEA-registered practitioner, you may have had to apply for an X-wavier. This special waiver, also known as the DATA-Waiver ("X-waiver" was coined because of the "X" that was added to the practitioner's DEA license number) was created under the Drug Addiction Treatment Act of 2000 (DATA 2000). It was previously required for qualified practitioners to prescribe buprenorphine for OUD treatment.   
The process of obtaining an X-waiver was lengthy and complicated. Practitioners could only treat a certain number of patients.   
Now, the MATE Act seeks to streamline this process through the elimination of the X- waiver requirement for practitioners. No more worrying about how to get an X-waiver or how to get buprenorphine waiver, or even where to begin with the DEA X-waiver application!  
How do I find my X-waiver number?  
Under current guidelines, the X-waiver has been eliminated. However, if you've obtained an X- waiver in the past and are wondering how to locate your number, it can be easily identified in your DEA license, by locating the addended 'X.'
Training requirements  
A few important things to keep in mind:  
The training does not have to occur in one session. So long as you total 8 hours, you can spread your training out across multiple training sessions.

Past trainings on the treatment and management of patients with opioid or other substance use disorders can count towards meeting this requirement. For example, if you received relevant training before the

enactment

of this new requirement on December 29, 2022, that training counts towards the eight-hour requirement.


Past DATA-Waiver trainings count towards your 8-hour training requirement.

 

Trainings can occur in a variety of formats, including classroom settings, seminars at professional society meetings, or virtual offerings.

NOTE: Fitzgerald's new 8-hour

course

meets the training requirements.

Learn more here

.

 

 
Additionally, if you fall within the following categories, your training requirement is already satisfied:   
Board-certified in addiction medicine or addiction psychiatry

Practitioner who has graduated from school that included at least eight hours of coursework regarding SUD within 5 years of June 27, 2023

 

If you're within five years of your application for DEA registration 

 
Goals of the MATE Act  
The changes brought about by the MATE Act have significant implications for addiction treatment and healthcare as a whole. By reducing barriers for healthcare providers to prescribe buprenorphine-based treatment, the act aims to:  
Expand access:

The opioid epidemic has affected countless lives, and increasing access to evidence-based treatment is critical to saving lives and improving overall public health. 

Reduce stigma:

Through simplifying the process for healthcare providers to offer medication-assisted treatment, the MATE Act helps reduce the stigma associated with addiction treatment. More patients may feel comfortable seeking help when more practitioners have what they need to provide effective care.

Save lives:

Medication-assisted treatment has been proven to be highly effective in reducing opioid overdose deaths and improving long-term recovery outcomes. By making it easier for practitioners to offer MAT, more lives can be saved. 

 
Addressing the opioid epidemic  
The MATE Act marks a big step forward in addressing the opioid epidemic. It expands access to medication-assisted treatment for opioid use disorder. By eliminating the X-waiver requirement for practitioners and introducing new DEA CME requirements, the act aims to equip healthcare providers with the tools they need to make a positive impact on individuals struggling with addiction.   
Perhaps you're a DEA-registered practitioner. Perhaps you're someone seeking information on addiction treatment options. Understanding the MATE Act and its implications is essential for making informed decisions and contributing to a healthier future.  
For more information on the new DEA CME requirements, check out our recorded Q&A video with Dr. Sally Miller, PhD, AGACNP, AGPCNP, FNP-BC, PMHNP-BC, FAANP.