Recent Developments in Antibiotics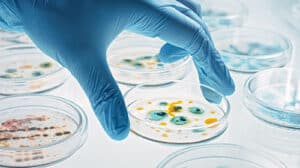 After many years without any new antibiotics in the pipeline, researchers have announced the development of several new antibiotics. Scientists in Germany, Boston and the Netherlands have developed Clovibactin, a bacterium-derived from soil, touted to be highly effective against other drug-resistant bacteria.  
Recommended course: Antimicrobial Update: A Focus on Appropriate Use and Stewardship, 5E 
Additionally, a novel, in-situ technique known as iChip was utilized to isolate organisms, especially gram-positive bacteria, by growing the environmental bacterium from previously uncultivated microorganisms. This allowed the antibiotic to be isolated and identified.  
Clovibactin has a high sensitivity and specificity to pyrophosphate groups of bacterial cell wall components using a hydrophobic interface. It works primarily on gram-positive bacteria including MRSA. Its mechanism of action blocks pathogens from changing the synthesis at different parts of the cell wall. 
Sulbactam and durlobactam 
The FDA also recently approved Xacduro (sulbactam and durlobactam), a parenterally administered antimicrobial for use in treating hospital-acquired bacterial pneumonia (HARP) and ventilator-associated bacterial pneumonia (VABP) caused by the Acinetobacter species that are highly resistant to current antibacterial medications.  
Sulbactam has a chemical structure similar to that of penicillin and works by killing A. baumannii. Durlobactam works by preventing sulbactam degradation by enzymes produced by the bacteria. Xacduro is currently available though specialty pharmacies.  
Teixobactin, a macrocyclic depsipeptide, is another new antibiotic that works similarly against gram-positive bacteria by binding to lipid II and lipid III, precursors to peptidoglycan, a substance that creates bacterial cell walls. It has been developed from antimicrobial peptides that were found in uncultured soil bacterium called Eleftheria terrae.  
It works primarily using a two-pronged mechanism by binding to the cell wall, inhibiting cell wall synthesis. It then inhibits the lipid II and II substrates, which are critical components for biosynthesis thinning out the membrane. Teixobactin is currently under late-stage pre-clinical development.