New Therapy for Sickle Cell Disease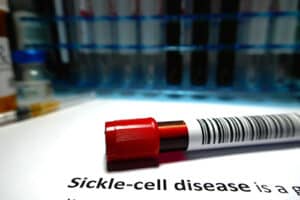 Sickle cell disease (SCD) is an inherited genetic mutation causing normally round or disc-shaped cells to develop as a crescent or sickle-shaped cells. It disproportionately affects African-Americans. Treating SCD is especially challenging. Some therapies may slow down the progression, but no therapy has had any transformative effect on the disease itself.  
Recommended course: Clinical Guidelines Update: Anemia, HPV, Gout, Probiotic, Hepatitis B 
The red blood cells for these patients contain mostly hemoglobin S, an abnormal type of hemoglobin. These cells then tend to stick together in the blood vessels, causing vaso-occlusion, moderate to severe pain, anemia, and eventually organ failure. These blockages are very painful for patients experiencing a sickle cell crisis. 
Up until now, treatment was mainly palliative for pain management. Fewer than 20% of patients who matched with a donor were able to undergo stem cell transplant. However, there are inherent risks to transplants that can be fatal to patients with SCD.  
CRISPR and gene-editing breakthroughs 
While many different clinical trials are currently taking place for SCD, one new therapy has emerged and has received preliminary approval for use by the FDA.  
Clustered Regularly Interspaced Short Palindromic Repeats, or CRISPR, is a gene-editing tool that targets specific DNA from cells, then deletes the unwanted material. In the case of sickle cell disease, the tool eliminates the crescent-shaped cells, corrects the hematopoietic stem cells, then replaces them into the patient through an infusion.  
This technology has the potential to cure this devastating disease. Current data demonstrates that 39 out of the 40 in the clinical trial did not experience any vaso-occlusive events, something that can cause patients with SCD to be hospitalized on average 3-4 times per year.  
Until further data is received, the FDA plans to make a final decision regarding the use of this technology by December, 2023.